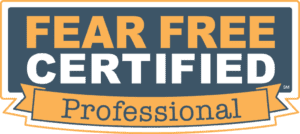 Stephanie's passion for high-quality medicine and exceptional client experience brought her to Dupont Veterinary Clinic. Stephanie brings over 16 years of experience in customer/client service, administrative, and management/leadership experience in both the veterinary and hospitality fields. Stephanie's favorite part of her job is serving people and their pets in our community.
Stephanie walks the halls or is at our front desk to ensure every client and their pet has an exceptional experience. If you don't see Stephanie at any time, ask our Client Service team; she would love to meet you and your furry companions!
Stephanie is an active member of the VHMA (Veterinary Hospital Management Association), AAHA (American Animal Hospital Association), SHRM (Society of Human Resource Management), and the American Business Women's Association.
Stephanie volunteers her time caring for DC community Cats; her passion is animal advocacy.
For marketing and business questions, you can contact Stephanie Emmert.